The body has an amazing capacity to rebuild itself, and often it merely needs a little support and guidance!
This Mastery series course is where we explore the complexities and nuances for you to accomplish more for your clients/patients.
Join me on the next step of this journey--the insights and effects are magical!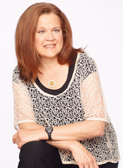 Hi, I'm Cara Lindell, the founder of the Bridging Technique.
The Bridging Technique is the product of my background in systems engineering, exercise science and having a child with significant medical and learning challenges.
Bridging harnesses the physics of the body to support and re-organize the body so it can work the way it is designed to!
This course builds on your Bridging knowledge and introduces the most versatile tool you can incorporate--the peanut ball.
Bridging Chat in Slack
A reminder that all Bridging professionals are invited to share experiences and ask questions to others in our Slack space.
Mastery Course 2--The Science
Learn the simple physics behind why the peanuts are so useful as a tool. They tap into several simple science concepts which will be discussed in the course. No equations or math needed!
Mastery Course 3- Supporting Developmental Transitions
Learn more about each developmental transition in the Bridging hierarchy, and how Peanut Balls can facilitate changes.